This is how the big event was announced by Eric Simonson from Mountainzone: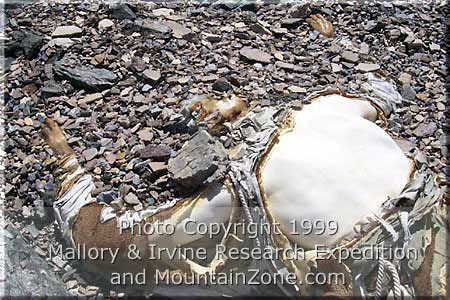 George Leigh Mallory's body, photo taken on Saturday, May 1st, 1999 at 27,000 feet,
by members of the members od the Mallory & Irvine Research Expedition



Hello, this is Eric Simonson calling on Sunday evening, May 2nd, from Advanced Base Camp at 21,300 feet at Mount Everest.

I have some huge news to announce, so I hope everyone is sitting down and ready for this one. Our climbing and search team members Dave Hahn, Tap Richards, Jake Norton, Andy Politz, and Conrad Anker just returned to Advanced Base Camp late this afternoon with an amazing story. ....
..... It looks like we got lucky this time.

I'm pleased to announce that The 1999 Mallory and Irvine Research Expedition has found the remains of George Mallory, lost on Mount Everest on June 8th, 1924. The remains were conclusively identified and the surrounding area investigated by our team. After the search, which comprised several hours of activity at 27,000 feet, the team performed a committal ceremony and then buried George Mallory. .....

.....On behalf of The Mallory and Irvine Research Expedition, I want to convey how much for us this discovery is a huge achievement and so far beyond our wildest dreams. It is hard to convey our excitement over this discovery. Our expedition was formed to pay homage to these great British climbers, and I can only say again that I have always revered the world's brave explorers, and that I am humbled and honored to be able to lead this expedition and the climbers on this team who are responsible for this discovery. .....
.....Goodbye for now.

Eric Simonson, Expedition Leader
Mallory & Irvine Research Expedition


Mallory's family

The following message was forwarded to MountainZone.com from Clare Millikan, the eldest child of George Leigh Mallory, by her son Mark Millikan, grandson of George Mallory.

"Clare and her sons, George, Richard, and Mark, send heartfelt thanks for your help in unraveling the mystery of George Mallory and Sandy Irvine. We appreciate the reverent manner in which you have handled George Mallory's remains. Look forward to your safe return."

© 1999 ZoneNetwork.com. All rights reserved.